MASWA/SPSWA Joint Public Policy Meeting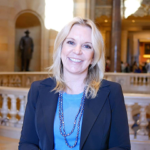 Senator Karin Housley will be presenting a 2018 Legislative Session Review with discussion to follow. One CEU will be available.
Karin Housley was elected to the Minnesota Senate in 2012 and was re-elected in 2016. She represents District 39, which includes the Forest Lake area and communities along the St. Croix River Valley. In the state legislature, Karin has become known for her passionate advocacy for seniors, veterans, and families. She currently serves as chairwoman of the Senate Family Care and Aging Committee.
Karin was born and raised in South Saint Paul, graduating from South Saint Paul High School in 1982. After attending Augsburg College in Minneapolis for a time, she transferred to State University of New York – Buffalo and graduated with a B.A. in communications in 1985.
Shortly after graduation, Karin married her high school sweetheart, Phil Housley. Phil's NHL Hall of Fame hockey career took them all around the United States and Canada, but the Housleys eventually came back to Minnesota and raised their family in St. Marys Point. Karin and Phil have four grown children and two adorable grandsons.
In addition to serving the communities she loves in the Minnesota Senate, Karin is also a licensed realtor. Along with her daughters, Karin owns and operates a successful real estate business in Stillwater. Over her career, Karin also worked as a television news producer and radio host and is the author of an investment book for women.